Now more than ever, getting into the virtual space has become not just practical but ultra necessary so we can continue with our projects and growth as a business and continue working in our teams. This is why, being able to move our activities to the virtual space is quintessential, e.g. having a virtual event to connect with your team, to carry out projects and to promote your company's values might be the answer to what your business really needs now.
Know your audience: define value proposition for all stakeholders
Virtual events could be online team meetings, team buildings, webinars, conferences, trainings, even Christmas or dance parties using a conferencing tool or social platform. But please, do not think this is just about asking people to get online at the same time – there is more to it. Actually, a virtual event follows the same principles as a real in-person event, and even though participants are dispersed over time zones and sometimes across the globe, virtual events have the potential to make participants feel comfortable, included, engaged and involved with the topics and the company itself. 
Building a profile of your audience will help you to understand their interests or needs, plan relevant content and also decide what channels you may use to deliver your message and interact with them. It is very important to consider the type of industry or sector you are working in. Since 2020 we all moved to the virtual space, but not everyone is that familiar or feels super comfortable using a conference or social platform to participate in a virtual event. 
We need to consider what type of equipment participants will need (for example mic and camera as the basics) and if they will be using a computer or a smartphone, what kind of program is needed and whether it needs to be downloaded or can be accessed via browser and how much guidance is needed for participants to be able to navigate the platform.
Demographics are also an important aspect to include here. Knowing where the participants are living and especially the time zones, will help us to decide the right date, time and duration for the event. We need to settle on a timezone that fits our stakeholders and decide how long the event will be so they stay connected and engaged. It is never a bad idea to take some time to search for other upcoming events (even online shows/concerts or similar) so here is no overlap of industry events. This sounds very self-explanatory, but it happened so many times to event organisers that it is important to mention at this point.
Please find here a few questions to build your profile audience:
? Are they likely to participate in a virtual event and how is their technical knowledge? 
? Where are they located? What time zones need to be taken into consideration?
? What are they looking to gain from attending the event?
? How can you motivate them to participate? Which types of promotions might they positively respond to?
Pricing Considerations for Virtual Events
In a next step, you need to calculate – as you would do with physical events – your breakeven point. This implies that you have already selected a platform and are aware of the majority of the costs you are going to face. In general we would suggest to price virtual events lower than physical events. Consider that we cannot offer food or catered coffee breaks, except we organise delivery of such through a paid service (which at the end might be more expensive than a physical event). In case of hybrid events (a combination of physical and virtual event), be also aware that your virtual prices should not be too low, otherwise you will disincentive your participants to attend on-site. Your fees should be set in such a way to encourage a high number of online attendees as cost per person is relatively low. Still, consider that the fee structure some tailor-made platforms have are rather high that might surprise you.
If you think about what your participants get out of the event, we suggest to follow the principle: the more you pay – the more you get, e.g. through access to all recordings and additional material after the virtual event for 1 month, 1 year, or even for forever. All these options give you the possibility to implement tiered pricing.
Design for an EXTRAordinary and memorable VIRTUAL event experience: add structure, content and format
The structure, size and format of the virtual event will definitely depend on the goals you set. Make sure this is well explained and clear when planning. When you design for a virtual events experience, you need to consider particularly on how to create engaging content for your participants. This can be via Live/Semi-live/Pre Recorded sessions. Engagement and interaction is tremendously important to counteract online fatigue.
If you have for example, a single or small group of speakers sharing information with an audience whose interaction is limited, you're having a webinar. But, if you have the goal to foster networking and interaction among your participants, then you're designing for an interactive virtual LIVE experience. It all depends on the goals of your event and what you want to share and how do you want participants to get involved and interact.
When we talk about creating connections and foster networking during a virtual event, we can do this pre-during and post event. This is something that was not as easy with an in-presence event. So, make use of this possibility and think about how to maximise networking before, during and after your virtual event, but also take peer to peer exchange/learning into consideration.
Criteria to choose a virtual events platform
Already before 2020, there were many virtual events platforms on the market, which we used for our virtual events. Still, Covid-19 has as a result a tremendous increase in the number of virtual events platform providers that it is hard to maintain a good overview. Choosing the right one will depend on the purpose of your event, the size of your audience, the duration and the format of the event. Besides, be aware that platform testing is of tremendous importance. Some of the virtual events platforms are still "very Beta" and therefore might not work as well as you would like it to be.
It is really important to have a clear idea of the features you will need, such as chat, live poll, exhibitors area, sponsor booths, networking possibilities. But also whether the platform allows for mobile access. Depending on the demographics of your participants, they might be more prone to use mobile devices to attend virtual events. Below you can find an overview of virtual events platforms which are well established and we tested by #virtualspacehero productions  in the past. If you want to know more, please get in touch with us!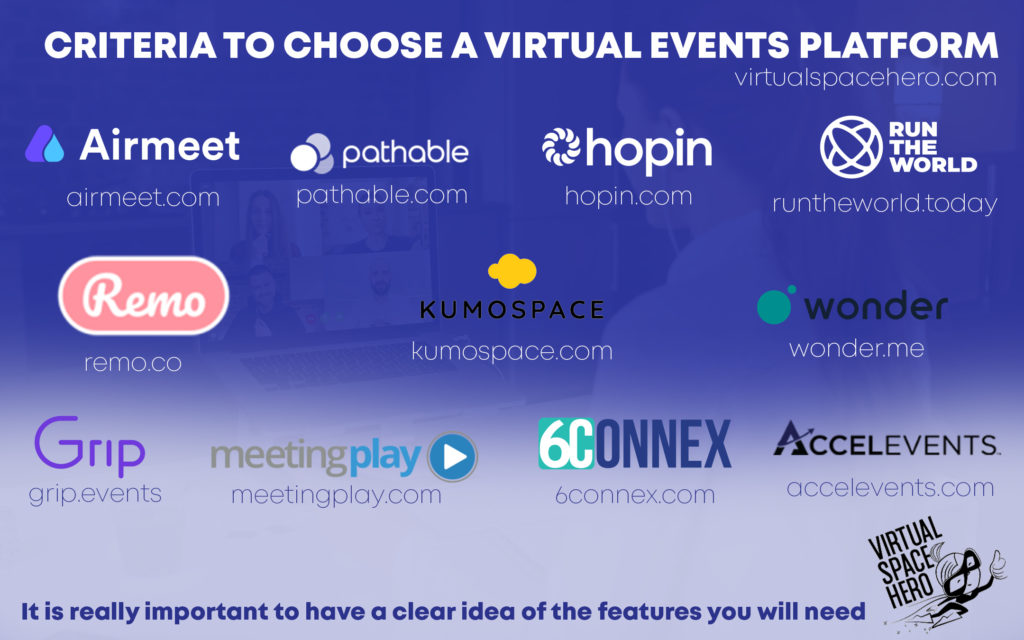 The role of the Virtual Emcee: the Host of your virtual event
A good virtual Host or Emcee is of utmost importance for the virtual audience because she/he allows your participants to not only share the experience, but to have an experience that is all their own. She/he assures that the virtual audience feels appreciated and like an active participant…NOT a passive attendee. Having a skilled person with the capability to hold the audience's attention is crucial, it will also help to moderate the activities, the speakers, control the time, manage the questions and as mentioned keep the interaction at a high level.
Besides, having a host/emcee is very helpful if something unexpected happens, for example if a speaker is late or has problems with the online connection, the host will be prepared to address the situation and keep the attention flowing. Beyond this, the virtual emcee also acts as the bridge between the online and the onsite audience so that every participant is sharing an EXTRAordinary and memorable experience no matter where they are located.
Especially when it comes to larger events such as conferences with a big audience, at #virtualspacehero productions we always work with several producers and co-moderators who can support the host and help participants with technical problems with the platform. A flawless virtual event has many people behind the scenes, which might not be noticed by the participants. There are several very important aspects to consider when you're planning to design a virtual event, before, during and even after the event. 
We've experimented with many options and formats, we design and produce EXTRAordinary and memorable virtual event, offering event moderation, live streaming support, moderators for small group activities, visual artists, musicians, video creation, event photography, personal trainers for stretching exercises during the breaks and of course DJ #virtualspacehero – without losing the impact of your message!
Are you planning to organise an EXTRAordinary and memorable virtual event? Well then, get in touch with us! We are looking forward to hearing from you!